Education
MCEF educates and trains for jobs and careers in the construction and manufacturing industries in Mississippi through classes held in its School-to-Work program for high school students, community college students, and adult craft professionals through its registered apprentice program. MCEF also conducts advanced upgrade classes for individuals and industry in response to market demand. All classes are taught by NCCER-certified instructors and offer NCCER credentials for successful completers.
Career & Tech Education - High School and Community Colleges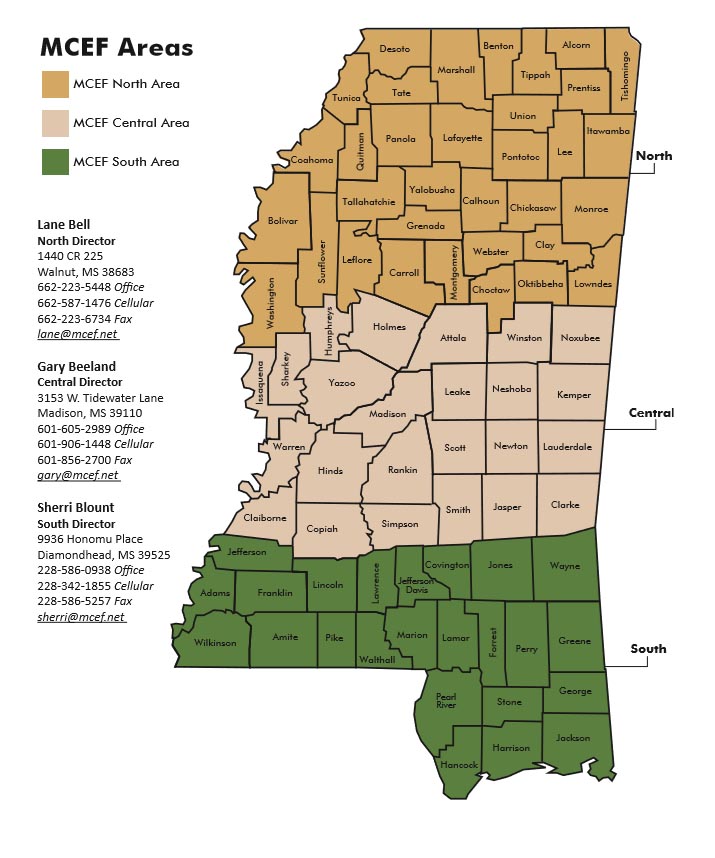 MCEF has a commitment to train and develop a skilled workforce. MCEF's initiative is to promote careers, recruit capable individuals, and train a quality workforce for the construction and manufacturing industries in the state of Mississippi.
Mississippi is a large state with 82 counties, 110 high school career and technical centers and 15 community colleges. In order to serve the entire state, MCEF has three area directors who are responsible for their respective geographic regions. Area directors work with the local career and technical centers, community colleges, and local contractors in credentialing, training, and in developing career paths in construction, industrial maintenance, and manufacturing.
MCEF has a 12-year partnership with MDE's Department of Career and Technical Education to support all career and technical programs and implement the NCCER credentialing of all construction CTE students. The goal is to have a seamless transition from high school to college to apprenticeship to work.
There are approximately 5,000 students that are training in 110 high school career and technical centers and 186 programs in the state of Mississippi and approximately 450 students in the community colleges studying various career and technical trades.
This is a map showing the three MCEF areas with each area directors contact information.
Printable Map
ATEF Schools
All secondary schools in Mississippi have gone through a tough certification process to become an NCCER Accredited Training and Education Facility (ATEF). Each CTE center has to meet certain criteria and guidelines to gain the accreditation and to remain an active program recognized by the Mississippi Department of Education.
Student of the Month
MCEF selects a CTE Student of the Month from each of the three MCEF areas for the months of October thru April. In May of each year, a Student of the Year is selected from the monthly winners and is awarded a cash prize of $500. Nominations are made by instructors and MCEF uses the following criteria to select the Student of the Month winners:
Grades
Attendance
Discipline in Class
Outstanding Achievements
Leadership Abilities
Post-graduation Plans
Forms
Short-Term Classes
MCEF is offering classes at various locations across the state. Most classes are 6 weeks long and cost $250 per class. The Intro to Welding class and the Introduction to Motor Controls are only $150. Click on the links below for dates and locations of the classes and for the registration form. To register for a class, submit the completed registration form and payment to MCEF.
Forms
Events
NCCER Credentials
In an effort to provide students and craft professionals with industry-recognized credentials and assure national portability of skills, NCCER maintains a credentialing and certification system through its National Registry. This online database tracks both training and assessments for its participants.
For training, the NCCER Automated National Registry provides transcripts, certificates and wallet cards to students who successfully complete the NCCER curriculum through an NCCER Accredited Training Sponsor. A transcript, certificate and an initial wallet card are granted when a trainee completes the core curriculum or any other full level of a craft. These industry credentials allow participants to provide easy verification of training for current or potential employers.
NCCER Registry System Online Verification