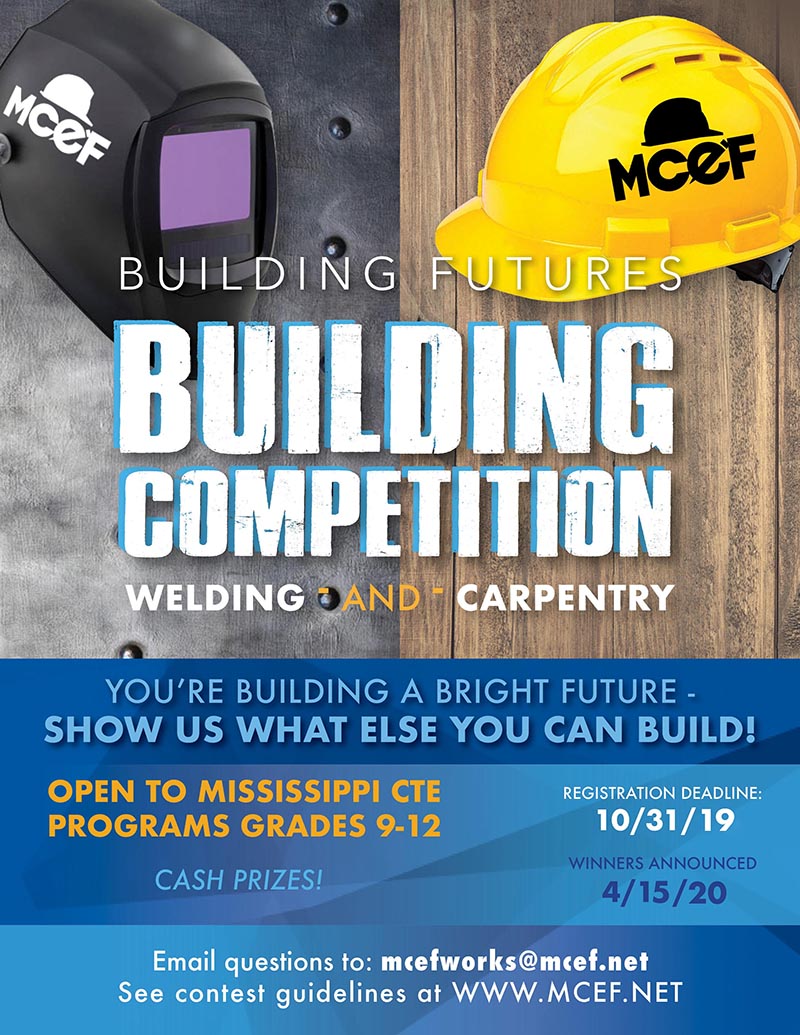 MCEF BUILDING FUTURES CONSTRUCTION COMPETITION
MCEF's Building Futures Construction Competition invites Mississippi career and technical programs involved in construction and manufacturing trades in grades 9-12 to build projects of their choice using wood or metal. Judging of completed projects will take place April 15, 2020, during the MCEF SkillsUSA State Competition at the Mississippi Trade Mart in Jackson.
Your imagination is the limit. Projects must be entered in each of the two categories – wood or metal – and must be specified at time of registration. Teams will have approximately six months to build their projects and plan for the transportation of their projects to the west bay of the Mississippi Trade Mart for judging. Each career and technical program will be allowed only one entry (one team) so start planning now.
Excellence pays. The top teams in the two categories will be awarded a $1,000 cash prize for their program. (new equipment, program T-shirts, pizza party, etc.) Teams may also advertise and sell their projects at the MCEF SkillsUSA State Competition in order to earn their program even more for their hard work.
You're the star of this show! MCEF will promote all competing teams and their projects on our social media platforms to build excitement about the Building Futures Construction Competition — and to showcase the talents of career tech students throughout Mississippi.
MCEF, with the help of all involved in the Building Futures Construction Competition, wants to show Mississippi how career and technical education is preparing students for successful futures, so we encourage you to be creative. The sky is the limit.

Unfortunately, due to COVID19, the SkillsUSA State Competition has been cancelled. As a result, the MCEF Building Competition has also been cancelled.
We apologize for the situation and know that we hate this as much as you do! Feel free to keep your project for NEXT year or go ahead and sell it and start over next year. We DO plan to have the building competition next year.
Building Futures Construction Competition Contest Guidelines
There is no entry fee.
Registration deadline (intent to compete): Oct. 31
Entries must be constructed using wood or metal.
The contest is open to career and technical education programs within construction and manufacturing in grades 9-12 in Mississippi.
Projects will be judged based on the following criteria:

Workmanship
Design and materials used
Practicality
Degree of difficulty
General appearance and finish
Documentation and presentation, including plans, photographs of the process, and a complete list of materials must be provided with your entry.

Important things to know:

Wood must be a wood project, and metal must be a metal project
Metal projects cannot use wood as a structural component
Wood projects cannot use metal as a structural component
All projects are limited to 6' x 8' x 10.5'
One project per program
Teams may advertise and sell their projects at the MCEF SkillsUSA competition

Submissions must be the work of a school team.
By submitting a project to this contest, you grant MCEF rights to use your image(s) in its promotions to the general public, including, but not limited to Internet sites, social media platforms, conferences and events, television, and other media outlets.
The only compensation for submitting an entry is the opportunity to be awarded a prize if the entry wins. MCEF will pay entrants no additional compensation nor be liable to the entrants or their school under any circumstances.
By accepting the prizes, winners agree to hold MCEF and all MCEF employees harmless against any and all claims and liability arising out of use of such prizes. Participants and their programs assume all liability for any injury or damage caused from participation in the competition.
Entrants agree to be bound by the official contest rules and decisions of the judges.
How to enter:
Entrants must email mcefworks@mcef.net no later than Wednesday, October 31 with the:
Full names of each team member
Team lead name, email and phone number
School name and address
Instructor name, email and phone number
Team photo
200-500-word description of the project
Please type "Construction Competition" in the subject line of the email.
Projects must be brought to the MCEF SkillsUSA competition by team members and removed during the times allotted below with no exceptions. Projects will be displayed in the west bay of the Mississippi Trade Mart (1200 Mississippi Street, Jackson, MS)
Delivery and set-up time: Cancelled for 2021
Removal time: Cancelled for 2021
All projects not removed by 5 p.m. Wednesday, April 15 will become the property of MCEF.
Teams may contact their MCEF area director for questions and clarifications on projects.
Winning Entries:
The winning entries will be announced Wednesday, April 15, 2020, during the MCEF SkillsUSA State Competition at the Mississippi Trade Mart in Jackson.
Prizes:
$1,000 cash to the CTE program of the winning team from each category (wood and metal) to be used as desired.